<![if !vml]>

<![endif]>
Welcome to my Family Page
I hope you enjoy your stay.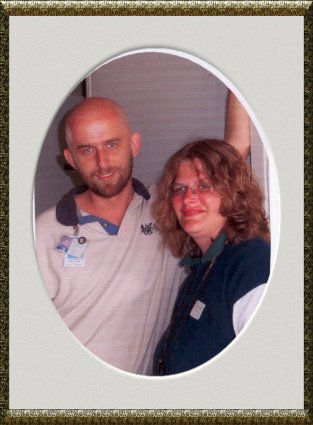 MICHELE
My name is Michele Laetare AKA Missy.(My Dad calls me Missyshell.) I was born and raised in Louisville Kentucky. (Outside of the 4ys we lived in Cinncinatti OH between the ages of 2 and 6.) Half of the year I work for Levy Restaraunts@Churchill Downs Horse Race Track. I'm the office assistant and a bartender there. The other half of the year I work as a security guard/usher/ticket taker. HEY! It pays the bills. I'm also a wife and mother of 3. Needless to say Im a busy person. In my spare time I collect unicorns. I have well over 200 of them from figurines to t-shirts. I love to read and watch TV anything educational, Star Trek, and Wrestling. ( yes, I love Wrestling.) I also love doing things on the computer this is accually only one of three websites that I have made. I enjoy making graphics the most. I just got Paintshop Pro 7 so I'm slowly learning how to use it.
DAVID
My husbands name is David AKA Dave. He is a very interesting person. He was born in Rochester N.Y. He also lived in Canada and Norway. When he was about 23 he and a few of his friends decided on Dec 31 1990, they would walk from Florida to New York. He made it to Louisville on Jan 21, 1991. By this point he had been robbed of everything he owned and it was getting cold and snowy. He decided to stay in Louisville until Spring. We meet in March. We didn't start dating until Sept. (I was married w/2 kids at the time we meet.) We moved in together March 92. We had a daughter July 93. We married May 95. He now works for Levy@Churchill Downs. He is the Wine Room Manager.(He is kinda my Boss.) He is really into music (mostly Heavy Metal.) He is the King of music triva. His favorite group is KISS. He has turned my oldest into a big fan too. He loves to mess with peoples heads. He will tell you the sky is upside down in such a way that you will believe him. (I cracks me up.)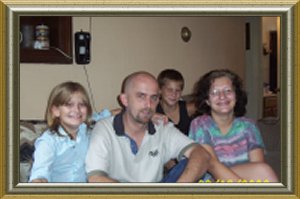 SAMANTHA
My oldest is a girl,Samantha Minks. She is 13 and in the 8th grade. So far I am very lucky, she is more into school then boys and very responsible. She is a honor roll student, peer mediator, and is in a scholarship program. She is also very pretty, she look older then she is. I just glad she hasn't let it go to her head. In the last 6 months she has gotten glasses and braces. She took getting them with a great attitude.
ADAM
My second is a boy,Adam Minks. He is 12 and in the 6th grade. He is very athletic. He loves to do tricks on his skateboard. (Yes, we make him where a helmet.) He has also played baseball for the last 2 seasons. He is doing pretty good considering he had never played before last year. He doesn't do very well at school. He is ADHD. He is a true challange. He has a heart of gold. He can't stand to see any kind of injustice. He will do anything he can to stop it even if he gets hurt in the process. He usually does. He is very small for his age. So people like to pick on him.
NICOLE
My third and youngest is a girl,Nicole Laetare AKA DiddleDiddle. She is 9 and in the 4th grade. She is very smart, maybe smarter then Samantha. Last year she was already reading on the 6th grade level. She is kind of a cross between the 2 oldest. Very smart but kind of hyper too. She is the baby in every way. She can even get her siblings to do just about anything she wants them to do with just a pout of the lip. She too is very pretty, but where Samantha looks like me, she looks like her Daddy.
THE PETS
I have to mention the animals because they too are family. MowMow(cat)is 3. She has always been kind of mean, but know that we have to other animals she is really mean. She is mad at us. But I love her anyway. She is mine. Charlie(cat) is 6 months. He reminds me of my son. Hyper and ferocious one minute. Sweet and cuddly the next. He belongs to Samantha Oreo(rabbit) is about 1 year we're not sure. One of my sons friends had to get ride of her so we took her in. She sweet, very timid. She is typical rabbit. She belongs to Adam. Then there is the Turtle. He lives in our backyard. My husband found him in the street on his way to work. Dave called me to come and get him. ( he is probley the only turtle to ever be in the race track) We have had him for about 8 months and he seems happy. He doesn't try to get out of the yard and he has grown alot.
I can be emailed at unicornky@hotmail.com